Recently I challenged a client to cut out entirely the boring cardio the "fitness experts" swore she needed to slog through in order to shed the belly fat she wanted so badly to lose.
She took me up on my challenge.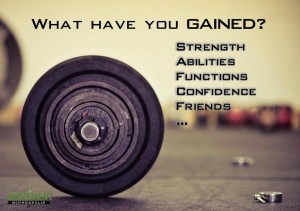 So far, she's down 16 pounds in 8 weeks. WITH NO CARDIO.
She also told me her energy levels are through the roof — the equivalent of what they were in her early 20s. She's happier and healthier than she's been in years, and she even has the nerve to call her new workouts EASY.
How can that be?
It's called the "19-Day Sexy Challenge."
The way it works is you do three boot-camp-style workouts per week, lifting heavy weights to elicit a metabolic response that notifies your body to build slender, dense tissue and get rid of fluffy fat cells. (Note: "Heavy" means something different for everyone — don't worry, you won't be pushed beyond your limits. My clients can never believe how easy their workouts are!)
You CUT OUT the excess cardio, which could be spiking stress hormones such as cortisol and contributing to belly fat. (That's what aerobics instructors don't want you to know!)
You also follow some very LOOSE but EFFECTIVE eating guidelines for 19 days, and take two nongimmicky, highly effective supplements that I'm going tell you to take.
You can expect to lose 8 to 12 pounds and up to two pants sizes.
The 19-Day Sexy Challenge starts next Monday 12/03 in Uptown at 6:30pm and runs Monday, Wednesday, and Friday until December 21. What will it feel like to go to Christmas in a slimmer body?
Click here to sign up right now online.
Oh, and the best part is that I've discounted it to just $99 bucks…
…and I'll make it even better if you bring a friend. I'll let both of you split the cost (so it would end up being just $49.50 each).
Fair warning, though: You can expect to lose up to a full pants size, and it's going to be easier than you can even fathom. Prepare yourself!
Reserve your spot right now by clicking here. The class is already almost half full, so don't hesitate to sign up!