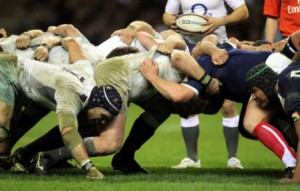 Recently I was working with an athlete who has played up to the highest level of her sport. However, she is often told at training camps that she has a particular weakness that is hindering her development. This topic came up when we were lifting, and the conversation went something like this.
"Is there anything I can be doing for my core strength? I mean, I know a lot of the things we do involve the core, but can I be doing more specific things?"
"Like what?" I asked.
"Well, I don't know exactly. It's just that I am always told my core strength is my biggest limitation."
"In what ways?"
"See, I can't get into this position <gets into position> and still be stable if I pick up a foot or hand."
I asked, "What if we modify the starting point of the position a little, so that you are stable, and you can start to train in it?" We tried elevating both hands a little. Like some kind of voodoo magic, she was strong and stable at that point. So, I asked, "Would it maybe make more sense to train this position, and gradually work your way to the floor?"
I think this was an aha! moment for her. She went on to tell me that she had done all the core strengthening drills — like planks — that her coaches had given her with no transferable effect on the field.  In fact, her coaches didn't believe that she was doing the exercises, because of course it wasn't possible that the exercises they were prescribing were useless.
This is the failing of giving answers. A coach gave an "answer" of how to fix this stability problem. At that point, essentially no more questions were asked other than to question if the athlete was even doing them. No one stopped to ask better questions.
Instead of: "Are you really doing the exercises we're giving you?"
How about: "Why are these nonspecific exercises not helping this specific position?"
Instead of: "What nonspecific exercises will increase general core strength & stability?"
How about: "What positions does the athlete need to be able to move, and resist movement in? What can we do to better simulate those?"
We don't give answers at The Movement, because when you think you have answers you stop asking questions. We help people ask better questions. If you keep asking questions, you'll never be stuck.